Hi there,
I started to build my Videostudio in April 2020 during the pandemic lockdown. Since then I have done over 100 workshops and livestreams. And I have continouisly build up my videohardware.
Because sharing is caring you will find here all my best practice equipment and how I use it. These are affiiliate links, that will give me some money back, but you do not pay more then normal. Thanks for supporting me.
My Homeoffice Setup:
The most important: a good but affordable camera:
Panasonic LUMIX G DMC-G70KAEGK Systemkamera (16 Megapixel, OLED-Sucher, 7,5 cm OLED Touchscreen, 4K Foto und Video) mit Objektiv H-FS14042E schwarz
---
This lens is great in homeoffice. Small aperture makes a nice blurred background:
Panasonic H-H020A LUMIX G Festbrennweiten 20mm F1.7 II ASPH. Objektiv (Pancake Objektiv, Filtergröße 46 mm, Bildwinkel 57°) schwarz
---
This helping hand is fantastic. I know it is expensive, but it works perfekt and my camera ist totally solid:
Manfrotto Magic Arm Set 143 N/BKT,035,003
---
Cameracabel to the elgato hdmi grabber
Aricona Micro HDMI auf HDMI Kabel – High End HDMI Kabel 5meter – HDMI 2.0/1.4a – Ultra HD, 4K, 3D, Full HD, 1080p, ARC, Ethernet
---
Very important: you need always enough power for the camera. So please buy a power adapter. It makes everything much easier than batteries:
Powerbank USB-Kabel + DMW-DCC8 BLC12 BLC12E Dummy-Akku für Lumix DMC-GX8 FZ1000 FZ300 FZ200 G7 G6 G5 G80 G81 G85 GH2 GH2K GH2S DC-G90 DC-G91 DC-G95 DC-G99
---
What a great light! You can put in on the camera and it has super high power, but you can dimm it as you want. And you can change the color temperature. So everything is possible in the homeoffice:
Moman Videoleuchte LED mit Diffusor, Mini Dimmbare Videolicht 3000K-6500K, Videolampe Klein TLCI/CRI 95+ Kamera Licht mit Magnet USB Dauerlicht Aluminium Fotolampe für DSLR Camcorder Sony Canon Nikon
---
Just to get the camera picture best in your computer you can use this nice small hdmi grabber. Works perfekt with every conference solution, like Teams, Zoom, Webex,….
Elgato Cam Link 4K, Live-Streamen und Aufnehmen mit DSLR, Action Cam oder Camcorder in 1080p60 oder 4K bei 30 fps, HDMI Capture-Gerät, USB 3.0
---
You want some nice light in the background. Many possible things are in the market, but nothing is so good like this Hue light. Over 1m high with all possible colors it makes a very nice background Tipp: buy tweo and put one on the right side and one on the left side outside the viewing angle of the camera. You do not need a philipps Hue base. This lamp works also via bluetooth:
Philips Hue White & Col. Amb. LED Stehleuchte Signe, dimmbar, 16 Mio. Farben, steuerbar via App, kompatibel mit Amazon Alexa (Echo, Echo Dot)
---
This is where the magic begins: here you see my Teleprompter which works up to 13″ monitors. It can be mounted at the Manfrotto Magic Arm:
TeleprompterPAD iLight PRO 13" großen Bildschirm kompatibel mit iPad PRO/Android/Windows – 100×100 Aluminium. Robust (kein Kunststoff). Multi Kamera. HD Beamsplitter Glass. High Quality. Made in EU
---
This is the biggest teleprompter monitor I have found for a good price. 11″ are ok, 13″ would be better. But: normal monitors do not have the mirror function like this one. If you do not buy this one, beware of the possibility to mirror the picture. or just use this one:
LILLIPUT A11 10.1″ 4K Camera Field Monitor HDMI and 3G-SDI Input & Loop Output 1920×1200 Full HD Resolution
---
Here is my microphone : the Rhode podcaster. 😍
Rode Procaster Quality Dynamic Mikrofon
---
Accessories:
Røde elastische Mikrofonhalterung PSM1
---
Røde PSA1 Gelenkarmstativ
---
And here the best mixer for the microphone and meeting sound: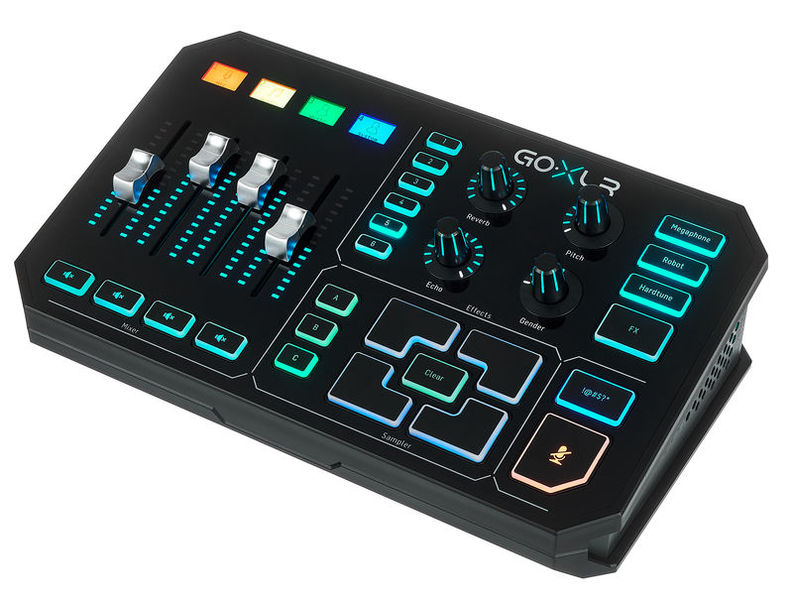 ---
And the important cable:
Stagg 3 m hochwertigen XLR-auf XLR-Stecker Mikrofon Kabel rot